Moody is home to Moody Elementary School, Moody Middle School, Moody Junior High School, and Moody High School. Moody has a school population of approximately 2920 students in grades K-12. Moody's schools are growing each year since 2000 new Moody residents send their children and approximately 100 new students attend each year. Moody's schools have a history of high SAT scores and their graduation rate is also high.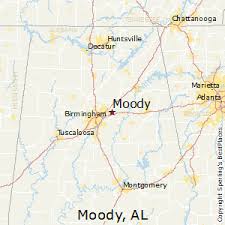 As of the 2010 census, there were 20,017 people, 5,816 households, and, 344 families residing in the city. The population density was 834.04 people per square mile (321.3/km²). There were 3,317 housing units at an average density of 138.8 per square mile (53.6/km²). The racial makeup of the town was 94.09% White, 3.81% Asian American, African American, 0.42% Native American, 0.22% Asian, 0.37% from other races, and 1.08% from two or more races. 1.09% of the population were Hispanic or Latino of any race.

There were 3,126 households out of which 34.6% had children under the age of 18 living with them, 60.8% were married couples living together, 10.6% had a female householder with no husband present, and 25.1% were non-families. 22.2% of all households were made up of individuals and 8.1% had someone living alone who was 65 years of age or older. The average household size was 2.58 and the average family size was 3.02.

In the town the population was spread out with 26.2% under the age of 18, 7.8% from 18 to 24, 31.6% from 25 to 44, 23.6% from 45 to 64, and 10.7% who were 65 years of age or older. The median age was 36 years. For every 100 females there were 95.6 males. For every 100 females age 18 and over, there were 90.8 males.

The median income for a household in the town was $39,500, and the median income for a family was $43,767. Males had a median income of $38,150 versus $26,089 for females. The per capita income for the town was $18,208. About 12.0% of families and 12.6% of the population were below the poverty line, including 13.9% of those under age 18 and 12.2% of those age 65 or over.